READ digital media with MORE focus, comprehension, retention & visual comfort!
NEW Windows 10 app supports more focused & accurate digital test taking, too!
This desktop app improves focus and comprehension!  Discover the digital version of our handheld Reading Focus Cards tools (U.S. Patent 7,565,759), solutions for readers of all ages and abilities! This long-awaited app is called the Reading Focus Cards desktop app (U.S. Patent 8,360,779).
Learn HOW this desktop app improves FOCUS and COMPREHENSION as well as other reading skills!
Reading Focus Cards App FEATURES:
Customizable for individual readers (i.e., size, color and more!)
Moves over underlying text via mouse, arrow keys or fingers (w/touch capability)
FLOATS ON TOP & STAYS ON TOP of underlying text or other apps
Accommodates small or very large fonts, too
Supports touchscreen technology (where applicable)
Helps with decoding & encoding words
Can be used with:

ONLINE or OFFLINE applications
Webpages, e-Books & e-Courses
PDF files, Word docs, Spreadsheets & MORE!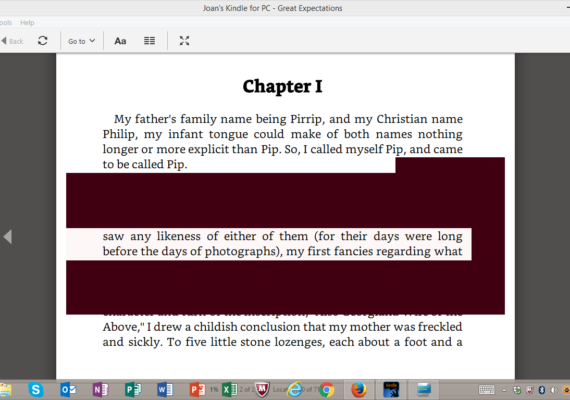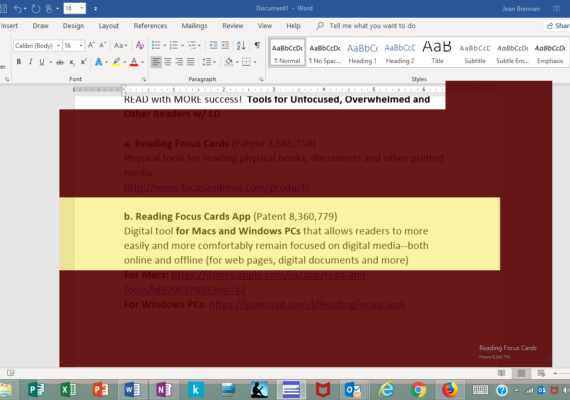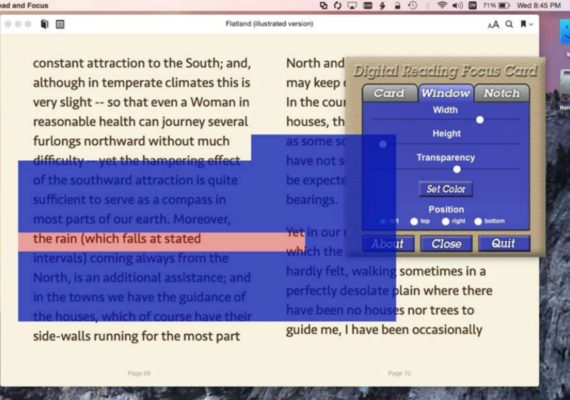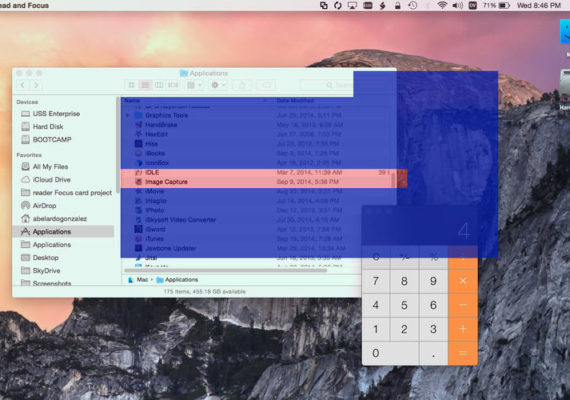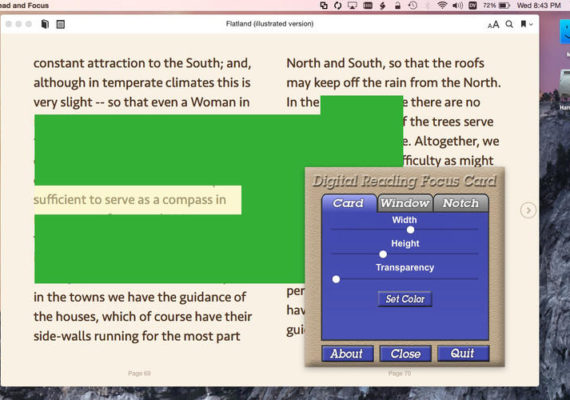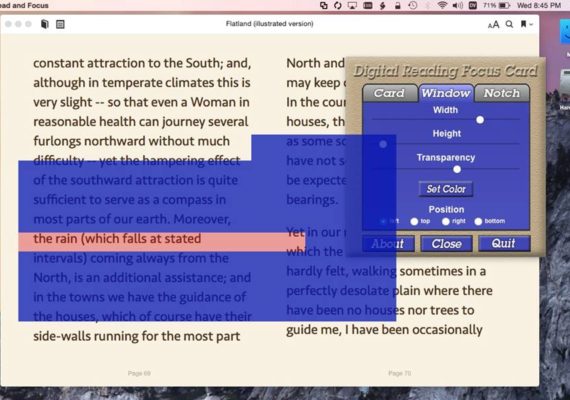 Now, ALL readers will be able to enjoy more reading success with both the hand-held, customizable Reading Focus Cards for physical books, documents, etc. AND the Reading Focus Cards app for reading digital media on Macs and Windows PC's.
This practical desktop app for Macs and Windows PC's was created with the combined expertise of:
A clinical psychologist
A developer of special needs apps
An experienced middle school educator.
This app provides digital reading support to aid all types of readers at any age or ability level. The NEW version for Windows 10 PC's provides even MORE focus and IMPROVED support when taking online/offline tests!
To access this new Reading Focus Cards app for Windows PC's (only), please click here.
Use the Reading Focus Cards Desktop app ON TOP of other desktop apps, too!
The Reading Focus Cards desktop app can be especially helpful for individuals with:
| | | | |
| --- | --- | --- | --- |
| ADHD | Dyslexia | Stroke (aphasia/alexia) | Alzheimer's |
| Autism | Low vision | TBI (traumatic brain injury) | Parkinson's |
| Down Syndrome | Convergence insufficiency | Decoding issues | Other issues |
Here's the desktop app that improves FOCUS, COMPREHENSION and RETENTION!  This application is called the Reading Focus Cards app (U.S. Patent 8,360,779) for Macs & Windows PC's.  It enables a reader to:
Select a preferred color, size, degree of transparency and orientation of a virtual Reading Card AND Reading Filter, respectively and independently.
Combine customized color and size selections to provide more focus, visual comfort, improved tracking, better comprehension and retention benefits.
More GREAT News!
Readers can even use the Reading Focus Cards desktop app in combination with the Kindle apps for Macs and Windows PC's. Check out our blog article here to learn more! Now focus and read e-books from Amazon.com more effectively on your Mac or PC with your Reading Focus Cards app!
To learn more about the Reading Focus Cards app or to purchase this app ($5.99 per download or device), please visit one of the following: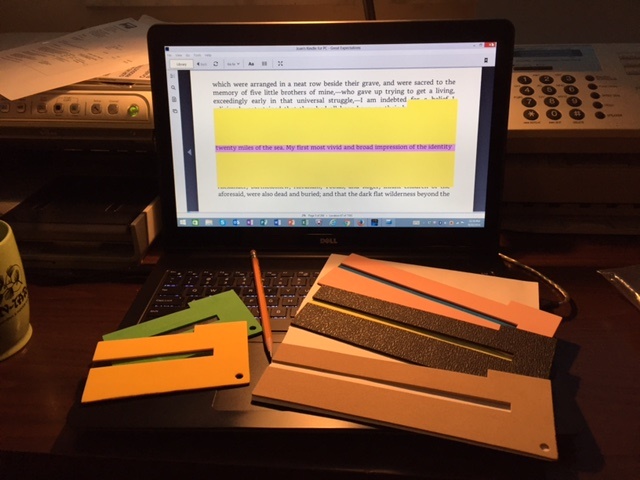 Testimonials for the NEW Reading Focus Cards App:
I just installed and tried it on my MacBook, playing around with the various settings. It's simple to use, elegantly designed, and intuitive…oh, and affordable! (especially compared to the alternatives).
The Reading Focus Cards desktop app is a real lifesaver for me!
I love this (app)! You did a fantastic job. It works perfectly.
He chose a dark blue (reading) window with a black card. I like the fact the window can be widened or made smaller to fit an individual word on the screen (PDF). He read words individually that way. Then we widened the window to see the whole sentence and reread. It was much easier than pointing at the screen so he wouldn't lose his spot. I use it all the time. It helps 'the blue screen effect' and stops headaches.
You, our loyal clients and customers, have been most supportive of our work to help challenged readers and learners since 2008. Now, with our re-doubled efforts and your continued support, we will be able to help even more readers, regardless of age, ability or the media format presented. Thank you for that great support!
Happy Reading—NOW for EVERYONE!
Joan M. Brennan
Brennan Innovators, LLC
www.FocusandRead.com